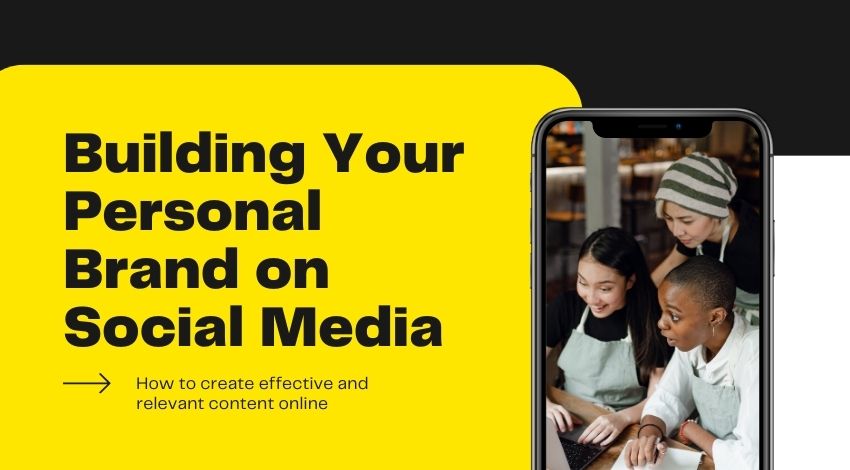 The concept of building a brand is similar to a child's studies, in which a student studies their things to gain knowledge. Their knowledge further obliged their image, making them strong, and unique from the throng.
So, building personal brands on social media alludes to studying its spectrum. If you know about the platform, you can build a brand easily.
You cannot develop expectations of instant results from social media platforms, especially when it is about personal brand development.
See, like a seed takes time to spring up and sprout naturally, building your personal brand online takes time followed by precision, courtesy, and goals.
Set S.M.A.R.T Goals
SMART goals are not a new cookie in the context of brand development. Many organizations are using it diligently. When you set your strategies as per the SMART goal concept, it lets you achieve desirable and admirable things for your brand irrespective of criteria.
Whether it's a business or personal profile on social media such as LinkedIn, Instagram and Meta, Pinterest or Reddit; SMART goals are a primal activity for building a brand in public.
The S.M.A.R.T goal concept is briefly explained below:
So, what does a SMART Goal statement look like?
Read this: 'Increase 2000 new followers with additional 5000 impressions on LinkedIn in two months'
Tips For Building A Brand Through Social Media Platforms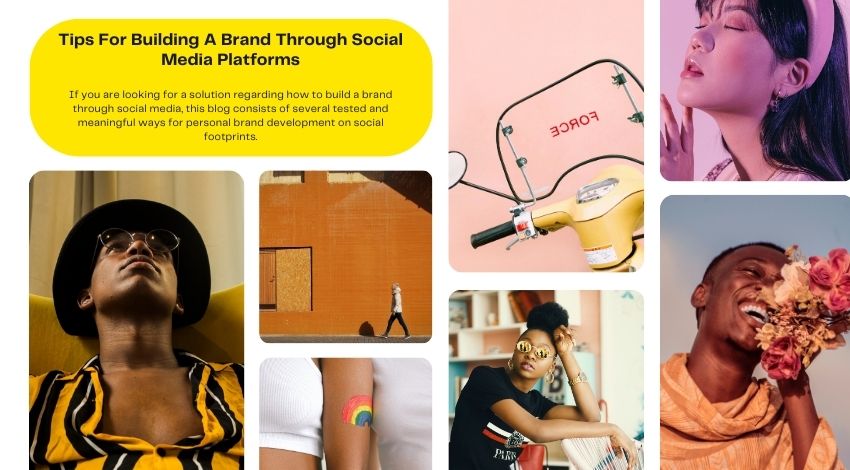 If you are looking for a solution regarding how to build a brand through social media, this blog consists of several tested and meaningful ways for personal brand development on social footprints.
When your agenda is to build a brand on social platforms, you give key consideration to the following things:
Target audience
Nature of business
Products and services
Current trends in the market
Cost, strategy and content
Brands use several practices to establish reputations digitally. Right from Pay-Per-Click to Search Engine Optimization efforts, a brand can build its reputation in a venturesome manner.
But establishing brand recognition through social media marketing is fun! Also, it is a robust practice to create brand awareness, engagement, and traffic.
Learn how you can build a personal brand without taking any social media and marketing classes.
1. Make Your Social Profile 100% Updated
Start with your ground things. Make your profile fully updated by inserting basic information into critical content and links. Add about us, a short bio representing core goals and objectives, and mention the complete address, and phone number for easy contact. Many social platforms give you the option to place links to visit websites or any other medium like correspondence social media links.
Most social media platforms come with an intelligent dashboard that guides you with each step of profile completion from 0 to 100. For instance; if you create a profile account on LinkedIn, its intelligent dashboard gives you piece-by-piece suggestions for profile completion.
Go and try it by yourself…!
2. Use Your Brand Logo & Name
In the scene of building a brand, the logo plays an important role. Most times your brand works as an identity for a particular subject. Before downloading an application people check the app logo and description. The brand logo and name add a unique sense of presentation. Keep your brand images as per the defined ratio of that particular social channel.
On the off chance, whenever you post anything on social media don't forget to customize your brand logo and name.
3. Create Attracting and Engaging Social Media Content
Social media is a big game even bigger than GTA V as it has so much content, ideas, inspirations, brands, and competition at a glance. Don't think that you are the only one offering valued products and services, or at least content that will inspire a group of people.
But, that is where you can gather inspiration to allude to your idea to present unique content to attract and engage with the audience. Explore similar interest brands and companies on social platforms, view their profile and learn what type of content they produce and what's their work in line with.
For more inspiration, visit industry leaders' accounts such as Starbucks Coffee, Swiggy, Zomato or top influencers' profiles to gather ideas on content creation.
4. Share Content On a Regular Basis
In social footprint, you cannot figure out what works best and when for people. All you can do is TRY!
So, never stop sharing your unique and pleasant content even for a day. Maintain a streak like champions does in their arena. Share content on a daily basis with everyday new tweaks and unlike taste.
Here are some ideas related to social media content sharing:
Infographics
Memes and GIFs
Product photo
Video
User-generated content (UGC), etc.
5. Connect and Communicate with the Audience
When you connect and communicate with targeted audiences they will interact differently and have an increased chance of converting. It highly helps in boosting the development of brand recognition. However, this practice may vary from industry to industry or brand to brand.
Communication can also occur other than visual terms. For instance, if a user likes, retweets, and adds comments to your post. It means they are interested in your post. You can then start communication with them by replying to their comment.
Sometimes, users leave a query regarding products and services even not-matched with the content matter you post recently. However, it is your responsibility to resolve it and always be prepared for irrelevant bad reviews.
6. Study Influencers for Collaboration
It is a new wave of brand establishment. Many brands are targeting influencers and collaborating with them for the sake of business growth. As influencers have many followers on their social accounts, businesses have a chance to build brand and recognition with their mouths of the word.
Just remember, not every influencer will give you successive results. You need time and have to research adequately to figure out what influencer will work well for your narrative purpose. If your business deals in the professional field, try LinkedIn. Or, if it's food and fashion-based, try Instagram.
7. Keep Social Posts Positive & Engaging
It would take only one minor snag to spoil all your hard work. Social media is mainly to educate people and share authentic content.
In any circumstance you shared negative and violated content, first, the platform itself won't tolerate it and secondly, the people you engaged with may leave you with sorrowful words.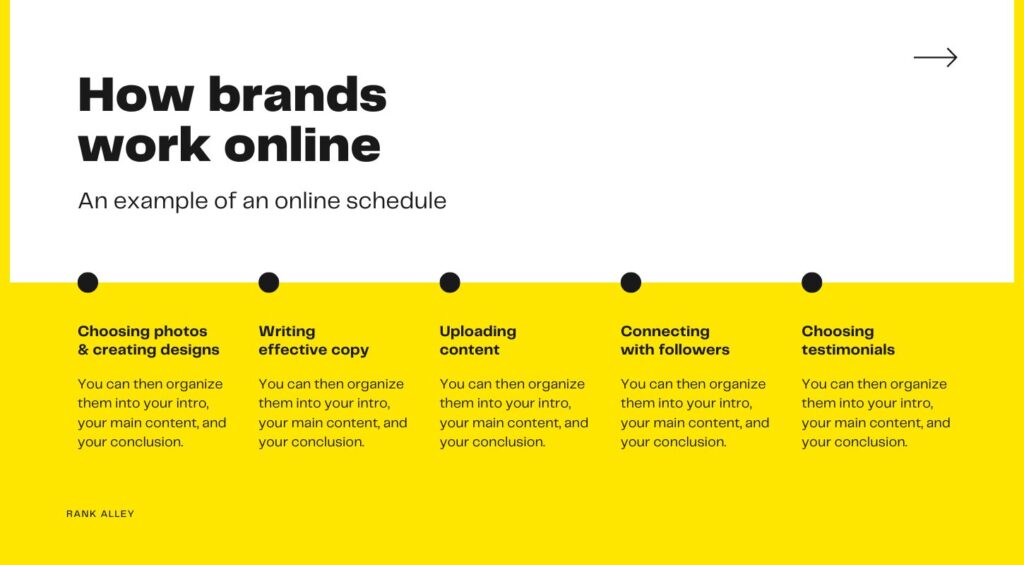 What's Next
When it comes to building your brand on social media, the rule of thumb you should keep remembering is – to be human. Humans can think extremely well than robots and AI-powered machines.
Hey! But that is not what I meant to say. I mean "Be human" is 'be real', 'be logical', and 'be smart' in every step you do on social media.
Thanks for reading this blog…! Keep reading and sharing 🙂