Paid Social Media Advertising Services
We are here to frame your social space! RankAlley is a leading social media advertising and management agency that helps dynamic startups, well-settled businesses to hyperly reach the audience onto any social platforms by stimulating their brand's social media presence in such a way that brings revolt in leads and help you hit your goals, accordingly.
Social Media Advertising Services For Every Platform
In a world of social roots, social media advertising is a must and is a hyper-direct way to reach the audience you want. Hereby, RankAlley is expertise in doing so – we do quality paid social media advertising that drives real-revenue results in a minute. Our geeks' minds have devoted their skills and brilliance in this field for the past few years and accomplished excellence mostly on every social platform.
Whether you seek to increase awareness, build new customers (friends) or high conversion either on to Facebook or Linkedin – with our complete and bounded social media advertising services you can easily achieve that. Also, you don't need to take stress about ad management, investment and reporting as we submit each information to you!
Our Process for Social Media Advertising Services
Running an effective social media campaign required advent knowledge, systematic methodology, and commendable expertise. At RankAlley, our experts build a successive roadmap for every social media campaign goal and reach to the end-objective, wisely. Here's the glimpse of how we do social media advertising for our clients.
Social media advertising is seen as an effective-winning social strategy! And conducting a social media audit is the first step in any social media strategy.
A social media audit is a rundown process of reviewing your business' metrics to assess growth, opportunities and what can be done to improve your social presence. It includes profile information, engagement metrics, publishing metrics, audience demographic, referral traffic, etc.
Develop Advertising Strategy
An advertising strategy is a script or sometimes refers to a plan to reach and persuade a customer to buy a product or a service.
A checklist of how we plot effective advertising strategy:
Setting goals and objectives
Identifying target audience
Establishing metrics and KPIs
Drafting engaging social content
Finalizing social account on targeted platforms
After formulating and scripting the crucial parts, we then put those into trials. Our designer and digital expert corporately work together to identify, design, and deploy engaging posts in a suitable format.
After this, we understand the anatomy of the chosen social platform which includes structural design format study, post schedule study, post-content management study, and more.
When all things sound good to us, we deploy campaigns while ensuring each and every aspect according to the plan. However, monitoring ads is a comprehensive job, but our experts know their tails very well.
We also look for rooms for improvement (running campaigns) with the aim to improve it more better. So, we timely optimize posts and closely monitor its performance.
Reporting & Communication
A report is a document that presents information in an organized format for a specific subject. Here, we draft a comprehensive report of your social advertisement including spending expenses, post performance, leads conversions, etc.
Hence, reporting gives you all necessary detailed answers of your queries. In case, you have any concerns you can thereby contact our expert via chat or email.
Our Latest Portfolios
Here some examples of our work. Check out some of our recent completed or ongoing projects for our clients based international as well as domestic.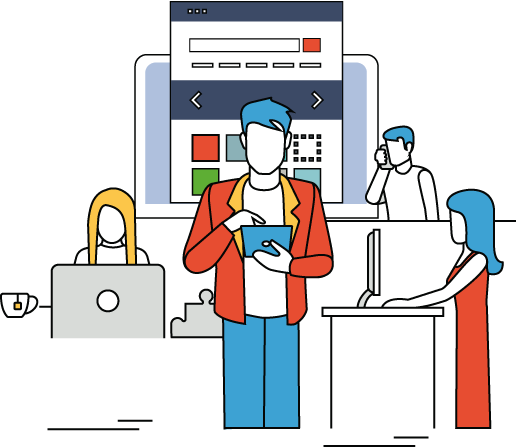 Live chat support is our client's favorite contact method. Ask our experts anything or have any project idea – get solutions instantly.
We stand back for you always, all-time. Even in the days of holidays and special events we are here for your problems.
Enjoy our services at no-risk. If we cannot do our due diligence and produce all the scripted tasks within the contact period, we will refund the full amount.
Get In Touch
We will be happy to answer any questions or want to chat personally, pick any medium of communication to start conversation with our expert.
Latest Blogs
Check out the latest blogs in the digital marketing industries, know the current trends, hacks, and tips from the team of creative writers.