Social Media Optimization & Management Agency in Jaipur
Define you…the way you want with our well-recognized social media management services with the trust of over 500+ young dynamic clients in India. We help you in the development of brand awareness (followers), build relationships (engagement), and increasing website exposure (traffic).
Explore Social Media Services in Jaipur, INDIA
Social media management is an umbrella that comprises a number of action-oriented strategies such as developing a plan that's tailored to customers, drafting and distributing content for social media profiles, proper monitoring online conversations, collaborating with influencers, offering better community service, and monitoring, measuring, and reporting.
Social media generates a huge amount of data about your customers in real-time and indeed it is a hyper-building revenue tactic for a business. That is why our clients prefer social management services provided by our team that generates over $231,120 in client revenue and manages 200+ real client SMM campaigns – so far!
If you're looking for an effective way to grow your business brand's own social media side-by-side accomplishing new customers and website traffic? Then you should grab our social media management services in Jaipur offered at a fair price.
Our Social Media Management Process
Social media gives you benefits only when it is being managed accurately and optimized periodically. A good social media management service having the following critical procedure in its realm.
A proper and well-planned action needed to make social media management successful. Therefore, we do competitor analysis to see where we need to focus our attention in order to be the best competition for them.
We do quality feedback analysis. Making a feedback action plan assures you extra-satisfaction and confidence. We check for scope of improvement, suggestions, and final review before hitting the mark.
This involves pre-planning of a series of actions including identifying persona, Ads and post creation, and more. Our attentive and social media-focused team does it carefully without any loopholes.
When everything sounds good, we do the actual work i.e. optimization and monitoring (periodically). We report each post performance with detailed insights about conversions and traffic accomplishment.
Is Being Active On Social Media Platforms Important To Your Business?
Don't be idiotic by saying social media is a waste of time! Instead, many fortunate brands believe and witness that social media is one of the effective ways to build loyal and royal clientele in a short time.
Those who don't have a social media presence are surely missing out on the positive energy of social media. Having a presence on social media platforms, one can target customers directly, get conversions quickly, and engage with thousands of audiences in no time.
Let's check out these statistics…!
66% of Facebook users say that they LIKE or FOLLOW a brand on this social platform.

53% of users say they purchased a product they first discovered on Twitter. It's a big thing!

90% of Instagram users say that they follow a business on this social network.

89% of online marketers state that Instagram has been a very effective social media platform for influencer marketing.

74% of Facebook account-holders state that they check their Facebook accounts every day.

77% of Twitter clients say that they feel better about a specific brand when their Tweet has been answered to.

83% of Pinners have witnessed making a purchase based on the content they saw from brands on Pinterest.

90 million LinkedIn users are senior-level influencers, while 63 million of them are in decision-making positions.
Unlock Your Social Media Potential with Rank Alley: Your Trusted Social Media Optimization Partner in Jaipur
At Rank Alley, we are your dedicated partners in elevating your online presence through expert Social Media Optimization (SMO) services in Jaipur. Wondering why Rank Alley should be your ultimate choice for SMO in Jaipur?
At Rank Alley, we create customized SMO plans to fit your unique business needs. Through careful market analysis, we optimize your social media profiles, ensuring maximum engagement with your target audience.
Expect real, measurable results with Rank Alley. We focus on enhancing your brand's reach, increasing website traffic, and driving conversions. Our data-driven methods guarantee the effectiveness of your social media campaigns.
Your satisfaction matters to us. Rank Alley provides dedicated customer support, offering quick responses to your queries and guidance on social media best practices. With us, you're not just a client; you're a valued partner on your journey to social media success.
Our Latest Portfolios
Here some examples of our work. Check out some of our recent completed or ongoing projects for our clients based international as well as domestic.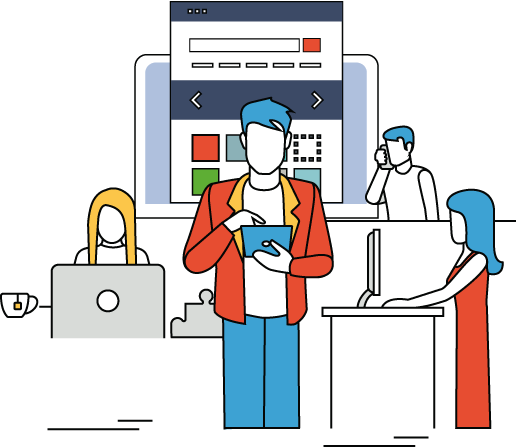 Live chat support is our client's favorite contact method. Ask our experts anything or have any project idea – get solutions instantly.
We stand back for you always, all-time. Even in the days of holidays and special events we are here for your problems.
Enjoy our services at no-risk. If we cannot do our due diligence and produce all the scripted tasks within the contact period, we will refund the full amount.
Get In Touch
We will be happy to answer any questions or want to chat personally, pick any medium of communication to start conversation with our expert.
Latest Blogs
Check out the latest blogs in the digital marketing industries, know the current trends, hacks, and tips from the team of creative writers.
Social Media Management & Optimization FAQs
What is social media management, and why is it important for my business?
Social media management involves creating, scheduling, analyzing, and engaging with content posted on social media platforms. It's crucial for your business as it enhances brand awareness, increases website traffic, and boosts customer engagement.
How can social media optimization benefit my business?
Social media optimization (SMO) improves your online presence and visibility on social media platforms. It enhances your brand image, increases website traffic, and helps in connect with your target audience effectively.
Which social media platforms do you manage and optimize?
We specialize in managing and optimizing all major social media platforms including Facebook, Instagram, Twitter, LinkedIn, Pinterest, and more. We tailor our strategies according to your business needs and target audience.
Can you help my business create engaging content for social media?
Yes, we create high-quality and engaging content tailored for each social media platform. Our experienced team develops visually appealing graphics, videos, and written content to captivate your audience and boost your social media presence.
Can you help in managing customer interactions and feedback on social media?
Absolutely, we actively engage with your audience, respond to comments, messages, and reviews. We manage your online reputation, ensuring positive interactions and addressing concerns promptly.
Is social media management suitable for small businesses?
Yes, social media management is beneficial for businesses of all sizes. It provides an affordable and effective way to reach a larger audience, build brand loyalty, and drive sales. We customize our services according to your budget and goals.
How can I get started with your social media management and optimization services?
Getting started is easy! Simply contact us through our website or call our office. We'll schedule a consultation to understand your requirements and goals. From there, we'll create a tailored social media strategy to elevate your online presence and drive business growth.